London wood floor installation
We are pleased to offer our wood flooring services
From one room to whole house
"We decided to go with Whitecrest after the initial consultation as we felt confident they would do a great job.
The quote was very competitive but more importantly the quality of the work and the service was excellent."

If you're looking to breathe new life into your home, Whitecrest are here to help.


Wood floor fitters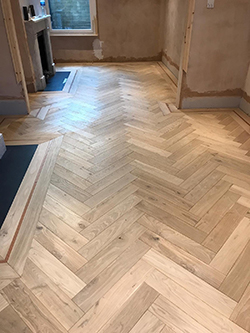 Hardwood flooring can be a beautiful addition to your home, completely transforming the look and feel of it, while also adding considerable value to your property.

At Whitecrest we have been supplying and installing stunning wood flooring throughout central London and the south east for many years.

The wood floor team is made up of highly skilled wood flooring specialists and craftsmen. We pride ourselves on a superior quality of workmanship that's affordable. We are trustworthy, reliable, accommodating, friendly and highly experienced!

We're experienced in installing every type of wooden flooring in virtually every type of property: residential, commercial, houses, apartments, offices; large or small areas, from budget to luxury, so for durable, timeless flooring from a trustworthy team, look no further than Whitecrest.


You will have a single point of contact who will manage everything for you throughout your wooden flooring project.

Nearly 25 years ago, Whitecrest started out as a high-end decorating company, working on some of London's most iconic hotels and institutions throughout the city. Working with some of the most talented interior designers and architects, we have the privilege to work on prestigious projects, creating beautiful and spectacular spaces, using the finest materials, finished to the highest standard, with no compromise. Whitecrest is not just another sub-contractor, we are a company that makes a difference, adds excellence and ingenuity and we do our very best to achieve exactly what the client imagines.
Book a free site survey for your wooden flooring


Simply call us on 02071 270 427 / 07895 713 436 or click here for a free no-obligation discussion about your wooden flooring installation and to book a free site survey